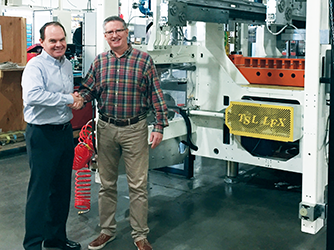 Davis-Standard of Pawcatuck, CT, has acquired Thermoforming Systems of Yakima, WA. TSL  designs, manufacturers and markets thermoforming equipment to the North American food packaging industry.
"TSL is the market leader in thermoforming equipment technology for high volume packaging and we are excited to welcome their dedicated team to Davis-Standard today," said Jim Murphy, Davis-Standard president and CEO. Murphy added "We are enthusiastic about this opportunity with TSL, as we share core values and a focus on our customers, technology and product innovation."
James Naughton, president of Thermoforming Systems, remarked on transaction. "Davis-Standard has a long-standing reputation as the global leader in extrusion technology and was our preferred partner to work with," he said. "We are very pleased to join an organization that shares our business principles, and together with Davis-Standard, TSL looks to deepen its commitment to our customers and employees.
"TSL will continue to operate and serve its customers as before and we are enthusiastic about our unique product opportunities with Davis-Standard." Murphy concluded with, "This is an exciting day for both organizations as we begin our future together."