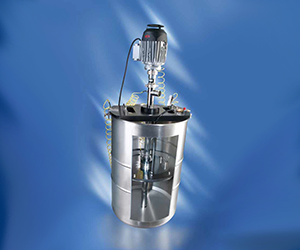 The drum emptying system Viscoflux lite from York Fluid Controls is used to transfer higher-viscosity media which are just capable of flowing, out of ISO drums with lid and sea container drums.
In the Ex version it is suitable for the use in hazardous areas of zone 1 and for transferring a wide variety of flammable media (zone 0/1).
The system from York Fluid Controls transports the media gently and continuously. Like the Viscoflux and the Viscoflux mobile, the Viscoflux lite leaves just less than 1 percent of the media in the drum.
The components of the Viscoflux lite drum emptying system are the Flux eccentric worm-drive pump with motor, the pump centering plate and the follower plate with process seal.
The follower plate is put directly onto the media in the drum. The pump centering plate is fixed above it on the edge of the drum.
The pump is then routed through the opening of the pump centering plate and the follower plate guide down to the bottom of the drum.
The eccentric worm-drive pump creates a worm-drive pump vacuum, so the follower plate goes down. The flexible process seal of the follower plate makes sure that almost no material remains on the drum wall. The material transferred is hermetically sealed in.