Ultrasonic clamp-on measurement system expands with FlowDC function
Mike Edwards
Products
Endress+Hauser
Proline
ultrasonic
video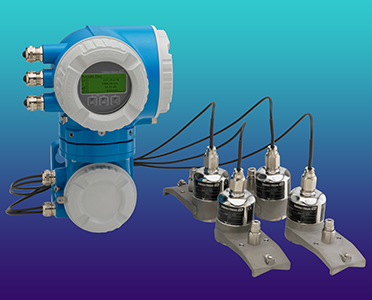 Endress+Hauser has announced the Proline Prosonic Flow P 500 measuring system with what is said to be a world-first FlowDC functionality built in. This means this clamp-on measurement technology also can be employed with that same high reliability on constricted pipeline networks with minimal straight line inlet runs and disturbed flow, the company says.
The compact pipeline systems in process industries usually have numerous fittings such as pipe bends. Disturbed flow profiles occur downstream with such obstacles and can impair the accuracy of a flowmeter.
Watch Ultrasonic Flow Measuring Principle video:
The Endress+Hauser system's new function detects and automatically compensates for effects of disturbances on the measuring signal via calculation. This is said to make it possible, for example, to maintain a consistent, specified accuracy even with a significant reduction in inlet runs — e.g. from 15 DN pipe diameters all the way down to 2 DN. This means maximum flexibility for operators wishing to equip or retrofit a plant with clamp-on flowmeters.
Stainless steel, SIL-compliant Prosonic Flow P sensors are IP68 (Type 6P) rated for operations in harsh ambient conditions or safety-related applications and at process temperatures between –40 to +170 °C.
Heartbeat Technology is another highlight, the company says. This testing function is integrated into all Endress+Hauser Proline measuring devices, enabling permanent self-diagnostics with the highest diagnostic coverage (>95%) as well as a traceable device verification without process interruption.
Watch Heartbeat Technology introduction video:
Complete access to all measurement data, including diagnostic data acquired by Heartbeat Technology, is possible at any time thanks to digital data transmission via HART or Modbus RS485 as well as via WLAN or via the freely configurable inputs and outputs.
---
Print this page