FDA-compliant tubing tackles food and other processing applications
Mike Edwards
Products
festo
tubing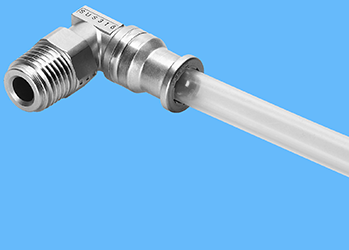 The Festo PTFEN line of FDA-compliant pneumatic tubing is said to deliver excellent high pressure, heat, corrosion and hydrolysis resistance required for harsh operating environments in many process industries.
Made of polytetrafluorethylene, the tubing is TSE-free, resistant to cleaning agent and not affected by challenging ambient atmospheric conditions.
Microbes and other active agents and contaminants don't stick to polytetrafluorethylene, making PTFEN tubing easier to clean and ideal not only for food production but also for manufacturing in the chemical, pharmaceutical and cosmetics industries, the corporation says.
Depending on the recommended Festo fitting with which it is paired, PTFEN tubing is rated for up to 6 bar at 130ºC for pressure resistance, or 150ºC for heat resistance. It is offered in seven different outside diameters, ranging from 4 to 16 mm. There are more than 200 nickel-plated brass and stainless-steel fittings available.
---
Print this page