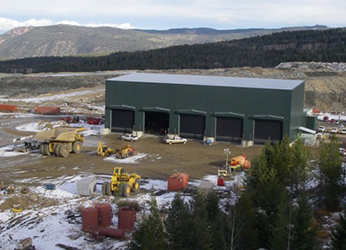 TNR Industrial Doors series of HDXL heavy duty extra-large rubber doors is said to offer rugged durability and high performance drive systems for harsh environments such as dirt, dust, rain, snow and temperature. The low maintenance units are suitable for heavy industrial and commercial applications, sized for large equipment access, the company says.
The HDXL doors operate in high wind load and pressure differential work environments with an opening speed of up to 12 ips and a maximum wind resistance up to 88 mph.
The rubber doors are available up to 55 feet wide and 35 feet high. Openings beyond these sizes can be engineered by the company.
Mechanical features include:
¼ in. black SBR rubber with polyester core weave;
resistant to temperatures from -40° to 180°F;
no hinges, cables, pulleys or tension springs;
knock-away bottom bar to reduce risk of damage during accidental impacts (model HDXL6 only);
model HDXL6 can be mounted to concrete wall or steel jamb;
model HDXL9 for steel jamb mounting only;
frame mounted thru-beam photoelectric sensor (HDXL6);
constant pressure to close (HDXL9); and,
high efficiency helical gear head (HG) operator with multi-function capacity PLC Control Panel.