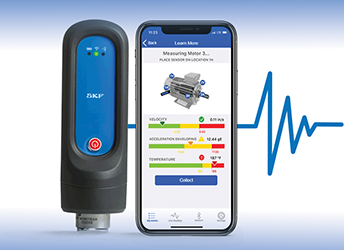 Predict machinery issues before operations are impacted, simplified inspection, machine health data collection and analysis are now available with SKF Pulse. The mobile application (demo video below) permits anyone to monitor machine health without the need for training or diagnostic expertise, the company says.
SKF Pulse combines an easy-to-use sensor with a free mobile app so that users can quickly and easily identify machine condition and share machine health data within their organization.
The app allows users to create asset profiles and customize standards around those assets as needed, making interaction and inspection more personalized and easier than ever. And in-app SKF Pulse Checks provide access to expert analysis and advice from SKF.