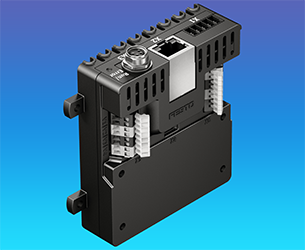 The VAEM solenoid valve controller from Festo for multi-head micro-dispensing in pharmaceutical manufacturing and laboratory applications provides individualized control and calibration of up to eight solenoid valves.
The Festo controller can open a valve in under 2 ms. Rapid and precise control of the valve decreased CV (coefficient of variation) from 3% to less than 0.5% in laboratory benchmark testing. Users can quickly and easily calibrate the flow through individual channels, which improves precision across multi-head systems, the company says.
The valve controller employs a "hit and hold" strategy to lower energy consumption. A short burst of high current "hits" the open position, and then the valve controller switches to a minimum current to "hold" the open position for a specified time. The strategy of using current rather than voltage to control valves diminishes heat buildup and aids in maintaining specified flow.
The valve controllers are suitable for 2/2- and 3/2-way solenoid valves. Units feature RS232 communication. Future iterations will have options for Ethernet, Modbus TCP and IO-Link. A PC based graphical user interface (GUI) enables users to pre-calibrate the dispense heads and to save the control parameters for standalone operation. External 24 V trigger-input synchronizes the unit with other systems. The controller's dimensions are 3.6 x 3.9 x 1.1 in. (92 x 100 x 28 mm).