Online calculator simplifies cabinet cooler system selection process
Mike Edwards
Products
cabinets
cooler calculator
Exair
NEMA
Exair Cabinet Cooler Systems are said to provide a comprehensive solution for cooling and purging electronic cabinets and come in a litany of different cooling capacities, NEMA ratings and classifications.
With the breadth of available options, choosing the best cabinet cooler for a specific environment can be a tedious task, the company says, and depends on a few key factors.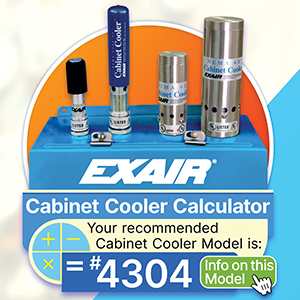 A Cabinet Cooler Calculator from Exair has been introduced to make it easy to find a suitable Cabinet Cooler System for any specific application.
By providing certain information like size of the enclosure, NEMA rating needed, and environmental conditions, the new calculator will sort through our large selection of ready-to-ship systems and provide instant feedback on the best cooling solution for any applicable electrical enclosure, it adds.
---
Print this page